In this post I'll share 15 tried and true tactics to get your content in front of more people. This will help you build traffic, build your subscriber base, drive more engagement, and should help you get more leads by filling the top of the funnel.
An audience like the one below is closer than you think...
Because you did it. It took months, but you finally sat down and did it. You built a strategy. You wrote down themes. You tested concepts. You bounced ideas off of your peers and partners. And with all of that legwork finished, you put together a compelling content strategy and editorial calendar. But now what?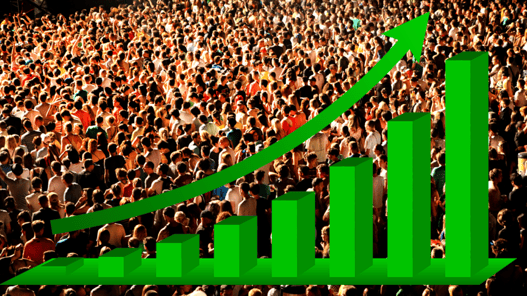 How do you get people to find your content? Or notice your content? Or care at all? It is just as hard, if not harder, to get people engaged with your content once you've posted it. Even if it is great content.
There are a million different ideas, tactics, strategies, techniques, tips, tricks and hacks out there. But if you don't have the time nor budget to test the seemingly infinite number of channels and tactics, then you should start with these simple, tried and true approaches.
Ask for a Share.

Once you post something, ask your former coworkers, peers, customers and other contact to share your content. This is the most effective and most overlooked strategy to get eyeballs. If you have several team members who get on board with this strategy, you'll only amplify your results. You could this with a DM on Twitter, a PM on LinkedIn, or even an email.

Ask for a Subscription. Add a subscription slider to every page of the website. Just do it. Caveat; once you've built an audience you might feature a premium content offer in your slider. Hubspot offers free software that does this called Lead Flows. You can get it here.
Ask for a Subscription, Again. When a visitor mouses off your page, take it over with a compelling reason to subscribe to your content. It's a hail Mary, but they're on their way out anyway. There are many wordpress plugins out there that offer this functionality. If you have a more custom site then you'll need to put a developer on implementing this strategy.
Align.

During your weekly sales/marketing scrum, make sure everyone is aware of and sharing any relevant posts, ideas, events, etc. This is easiest to do in a run-down format by looking at what you published last week and what you plan to publishing this week coming up. It's also helpful to cover industry events or major announcements from the media, competitors etc. in those meetings. Spark a dialouge online and get noticed! And since throwing in a little selfish reason never hurts - be sure to remind the team that they are increasing their followers, building their personal brand, and increasing their Klout score along the way!

Keyword Focus

. Develop and implement a keyword strategy to maximize SEO lift and get found organically. Google has great tools that enable you to do this and a with a simple search you can find tons of other great tools out there to aid in this. At the end of the day, it's better to own the dialouge around a couple key topics then to pay for adwords indefinitely.

Get Influencing. Follow the top 50-100 influencers in your space on Twitter. If they share something in your industry, get in on the conversation by tweeting at them or replying. And when you make a point, link to your reference (which will just happen to be your blog - go figure). A great service here is called BuzzSumo if you can swing it. When you post something that is along the same theme as someone with a large following, tag them. At a minimum you'll build some trust/cred and in the best case scenario they will share your post or link to it in the future.
Tease and Lead.

Post the first 2-3 paragraphs from each of your blog posts on your LinkedIn Page and then add a link to "Continue Reading." The more team members who do this, the better the results will be.

Tease and Lead, Again.

Post the first 2-3 paragraphs from each of your blog posts in a relevant LinkedIn group (and try to contribute to the conversation in that group as well

Guest Blog.

Submit some blog posts as "guest" posts on other blogs. This will help you tap into the audience where you're a guest. This also works the other way around where you invite/pay someone to post on your blog and bring their audience along for the ride. Some good places to look are:

Pay on Social.

Promote the highest performing blogs you have (total focus on conversion rate).

Ad networks.

Paid ad networks can get tons of traffic for all sorts of posts. Tools like Outbrain help you to get your content onto major platforms in the form of "suggested posts" that appear in that site's content. With points 10 and 11 you need be ready to spend some money and do some testing if you want to make this successful. And by testing I mean invest time :)

Refresh Content.

Update your content regularly to maintain and usually increase your search ranking

Join B2C. Apply as a guest poster on B2Community: http://www.business2community.com/become-a-contributor#0zwVkkdMJ4DMg5AJ.97. This will help your authority and credibility and also contribute to getting more guest slots. Once you're approved you'll need to use that channel regularly so be prepared to publish an additional post at least once per quarter. Note: B2C will ask you for samples so you'll need at least 3 original posts before you can try this.
Backlink Search Your Competitors, and Go There. Do a backlink search for your competitors. See where they are getting their links from (and therefore traffic). You may be able to pursue those sites or channels yourself with some continued digging. If you Google "backlink search" you will find several free tools at the top of the results.
PR Hack. Find outlets (and preferably individuals) that cover what you do. Send them a tweet or email with relevant content and insights that support their articles or topics. This post is great for how to hack PR.
Well, there are a million more ways to get eyeballs or drive engagement. But I promised you a manageable set of ideas and activities to get you started. Once you've gotten through this list, if you have any time left at all with all that traffic coming through, let me know how it's working and what I forgot here.
Now, go get 'em!