It seems like we hear it everywhere we go online as marketers: It's all about growth.
In a world full of growth hackers, growth strategies, ebooks, articles and listicles, there's no shortage of people, companies and ideas out there. Despite all the success stories and upward-turning graphs populating the internet, there is little focus on addressing the challenging points of growth.
Fixing stagnation or decline in revenue or your KPIs often requires inward reflection. Posting in LinkedIn groups can't solve all your problems :)
There are a million tactical approaches. But how exactly do you identify the troubled areas that could be inhibiting your growth?
In this post, I'll tackle a big question on many people's minds: Why isn't my company growing? While there could be hundreds, if not thousands, of potential answers we'll highlight 20 common areas below.
1. You don't devote enough time to strategy and planning sessions.

A good friend of mine likes to remind me that working in your business is very different from working on your business. We don't spend nearly enough time on the latter. Growth strategy is a never-ending process. It requires constant feedback, rebalancing and adjustments (as discussed further below).
I like to tell people that every company is a multi-channel media company. Those that have a great social media presence, great video, and a really nice website far outperform the competition. But producing at a high-level takes quite a bit of work and coordination.
The most successful plans are annual, quarterly, monthly and weekly. Documentation, follow-up and over-communication are critical to every successful marketing and growth planning initiative.
2. You're not collecting or acting on enough customer feedback.

Without feedback from customers and prospects, we are left with raw data to help us understand our resonance and performance.
Often, small-to-midsize high-growth companies don't have enough data to figure out what's really going on. Effective feedback collection requires software and the talent to use it. Use surveys and personas or customer interviews to gather feedback and refine your strategy.
Collecting quantitative and qualitative insights has never been easier. Quantitative data can be gathered with free tools like google analytics and others. Qualitative surveys and interviews are not expensive and the price of online research tools are constantly shrinking.
If you'd like to quickly gather and organize customer feedback, Digsite is a great online qualitative solution.
3. Your growth strategy is too narrow.

"Facebook—that's the answer. We're going to post on Facebook every day to make sure all of our fans see us."
Any strategy that is based on one or two channels could potentially be very harmful. How can you know, with certainty, where you have more prospects? Or where you have better prospects?
Take time to try new channels and tactics, and review the results regularly. The most efficient online marketers are able to create 15-25 pieces of content from one blog post or eBook.
Even when you find a winning mix, you must consistently revisit your old assumptions and introduce new hypotheses to ensure you maximize your performance as measured by ROI.
There's no time like the present to get started. If you need a little help to get moving sometimes an experienced partner is what you need.
Request Your Free 30-Minute Growth Strategy Session Today
4. Your growth strategy is too broad.

Life is all about balance, and just as you can focus too narrowly, being too broad will also dilute your performance.
If you attempt to try everything—and apply your very limited bandwidth, staff time and money, you'll quickly burn out. The data you've collected is spread across numerous platforms. Now making sense of it all is now a huge project on its own.
With this in mind, try and limit yourself and your team/company to no more a few channels per campaign. If you must cast a large net, put 80% of your focus on the channels that you can safely assume will produce the best results. And, if your assumptions turn out to be false, you can reallocate your spend and activities elsewhere.
A good place to start thinking about your growth strategy is within classic business frameworks. And then, from there, you can start to apply cutting edge tactics and techniques. IdeaGenius has a great listing of these frameworks.
5. You don't iterate.
There is no perfect winning strategy. It is testing and iteration that returns the best results—each and every time.
This is true at both the macro and micro levels, from your biggest strategies down to which image you use in a Facebook ad.
Put a process in place that revisits your marketing performance and analytics on a monthly basis. During this exercise, be sure to measure against your goals and be ready to rebalance your spend and bandwidth allocation. The moral of the story here is test, test and test again. When you're done, test some more.
While most basic testing can be done in house, more advanced testing should be done with a platform or partner. It's tough to give unbiased feedback to the carpenter who built the kitchen. Again, online qualitative platform Digsite is great in this space.
6. You don't have a documented process.

Who? What? When? Where? Why? How?
If you cannot answer each of these questions for every task, you need to revisit your processes. For more visibility, everything should be documented with some process or task management system to track it all (e.g., Teamwork, Trello or Asana).
This is particularly important for your annual marketing plan, editorial calendar and other marketing and sales governing documents. It's important to determine who is assigned, accountable, and responsible for every goal and task.
Download SquareWheel's Editorial Calendar Template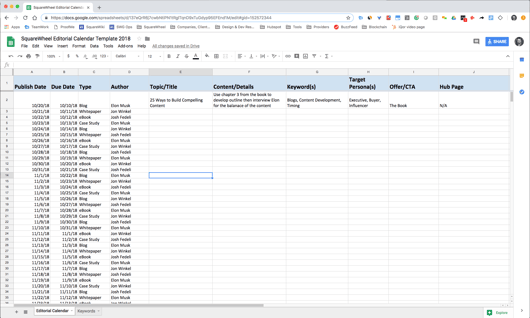 7. You have the wrong mix of people.

It's a tough conversation. But do you have the talent or partners capable of addressing every point on this list?
If you don't, you might think about hiring an interim CMO, growth consultant or another role to help develop the right team of employees, local contractors, gig contributors and agency partners to get the results you're aiming for.
Most high-growth teams are employing a mix of remote workers, offshore talent, small coworking spaces for the nucleus team and more. Consider platforms like Upwork or Fiver for small tasks and projects on your way to scale.
8. You don't have the right tech stack.

Marketing automation is the key to three very important things:
Marketing at scale with a small team, and
Keeping your messaging and client experience highly personalized and relevant
Measuring, analyzing and reacting to performance.
Without a powerful marketing automation stack in place, you're simply unable to keep pace with your competitors that are strong in this space. There are many different options in the space. Some of the more common tools include:
9. You don't have enough time to devote to growth.

You had the best intentions when you embarked on the journey to drive sustained growth.
But then you had a business, a team or a function to run. And things have slowed down since.
There is no easy solution to his challenge. Every business is different. Remote project managers can be an affordable and efficient option. You can also stratify tasks to keep senior folks on strategy and analytics.
For help with time management, check out this helpful blog post with 27 tips and tricks.
10. You lack the needed level of personal focus.

At least you have enough focus to make it to number 10. If you're reading this—especially this far down the list—you're likely the one responsible for growth at your company.
It is your leadership that will make this successful. That means knowing every detail of every project plan—every week. A task, project, goal, priority, or initiative that leaves your vision, is likely to disappear into the sunset completely unless you have a big team or a project management platform.
For help prioritizing and organizing all the tasks and goals you face, try a personal organizer like this one.
11. Your branding and messaging aren't working.

You're out there, but it's not resonating.
This comes back to feedback, testing and iteration. Another quick-fix alternative is benchmarking. Use your competitor's websites and some assessment tools to see what they're doing and what's working.
For help with branding and messaging get started with SquareWheel Brand DAM (Define, Activate, Manage) Template.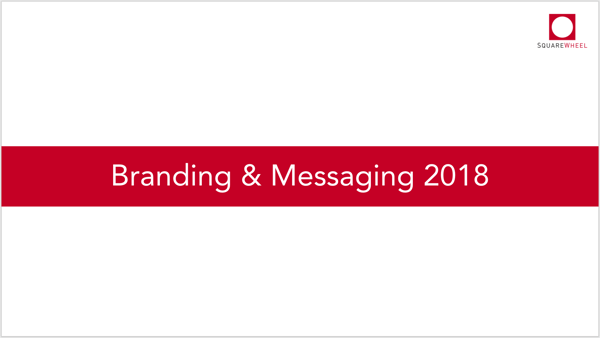 12. You don't have a partner strategy.

If three companies with an audience of 3,000 each band together, each individual one has an audience of 9,000.
The bath sounds basic. But this simple, exponential approach is often overlooked. We tell ourselves things like we're not big enough yet. Or we need more content first. But there is no time like the present to start building these relationships that will blossom into reciprocal arrangements.
Partnerships are generally a good area to focus on as soon as you have a compelling website and a small following. Your partners may change over time, but there will always be others in the same boat as you.
A good way to get started with a partner strategy is by guest blogging. Blogging and content development powerhouse CopyBlogger has a great post on this topic.
13. You've grown too quickly and quality has suffered.

Your strategy paid off. You grew! And you landed that awesome customer you had been dreaming of all along. Congratulations are in order.
But it's a lot of work and it requires significant account management overhead. And now it's choking your business.
This is another one with no simple or easy answer. It really boils down to stratification again—ensuring that your senior people are focused on the most critical strategic objectives while the production team drives performance at the tactical and channel levels.
14. You don't have enough reviews and social proof.

Seventy percent of the buyer's journey happens online—all before a company or individual is ever contacted. That stat is a couple years old and I'm willing to bet it's up over 80% now.
What online research reveals about your company, product and services is a critical factor in determining whether someone reaches out to you or purchases downstream. Without a strategy here, you're missing out on leads and conversions.
Review engine Yotpo is a leader in the review generation space and has a very mature product and customer service organization.
15. You keep experiencing employee turnover.

Your organizational knowledge capital keeps walking out the door. All the work you did around processes, planning and strategy left with it. Now you need to spend three to six months getting someone new up to speed. Fingers crossed they don't leave shortly thereafter.
While some turnover is natural, we'll save the ins and outs of employee engagement for another post. If you are constantly training new employees, you need a very tight and well-documented process so your new people have a good template and system to follow when getting started.
A good place to start digging into and resolving issues in this area is SHRM's post 7 Tip to Increase Employee Engagement Without Spending a Dime.
16. You gave up too soon.

You tried it. Some things worked. Some didn't. A couple of months went by, and you tried again with similar results.
This lurching approaching is typical of a small company trying to takeoff while juggling numerous product and fundraising priorities throughout that journey.
In these scenarios, it's best to revisit your plan and scale it back slightly. It's better to do a little less but deliver consistently than to constantly invest the time and resources needed to pick something back up and reignite it.
17. You don't have a CRM.

Without a centralized repository of customer and prospect information, including actions taken, you're dead in today's marketing and sales landscape. It really is that simple. From pipelines to automated email sequences to forecasting CRM capability is now a cost of doing business. There are plenty of free and cheap options out there that are highly intuitive. You have no excuse.
18. You aren't relying on reporting and analytics to make decisions.

You need data in order to make good decisions and track performance. What to kill and where to invest that "found money" is a strictly data-based decision exercise.
With Google Analytics and basic reporting in your CRM and/or marketing automation tools, you should have just enough to get started. As your operation starts to scale, you'll need more tools related to SEO, conversion analysis and the like.
19. You're not using dedicated sales agents.

If you're not using sales agents, resellers and distribution partners, you're sleeping on a major channel.
Often, you can find industry veterans that are willing to enter into referral arrangements strictly on commission. In other industries, you may need to look for more established companies as opposed to individuals.
Either way, this is almost always a worthwhile exercise and has a great ROI.
20. You haven't built a culture of closing.

If you want, you must ask.
Leads should never sit. Every opportunity should be worked thoroughly. Every follow-up should be scheduled and completed. Every time.
CRM platforms are a good place to track everything. As far as building a culture of closing, Hubspot recently compiled this list of the 23 Most Highly-rated Sales Books of All Time.
Conclusion
While many of these growth killers are big challenges, sometime it takes just a small change in perception, attitude or focus to impact your outcomes. Even if you think you might be suffering from 2 or even a few of these issues, focus on one at a time starting with the biggest derailer and working your way down the list. And don't be afraid to step back and do a strategic reset. Following an unproductive path based solely on 'sunk cost' never has a positive outcome nor ROI in the end.
If you're looking for help with your growth strategy. Look no further. The team at SquareWheel helps accelerate companies and their growth. It's our mission and growth is our ethos.
Request a Free, 30-minute Exploratory Session